Sterling Die & Engineering Takes Great Pride in Our Ability to Manufacture Precision Stampings
---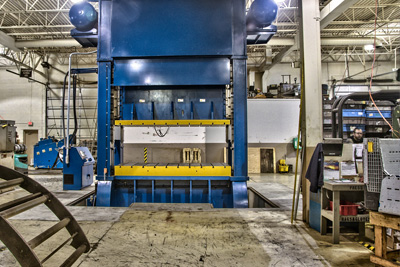 Our specialized custom metal and high definition stamping capabilities include meeting the most exacting tolerances for all grades of aluminum and steel.
Equipped with nineteen (19) presses ranging from 60 – 600 ton featuring a 600T Heim Press (60 x 144 variable speed 20-60 SPM), we deliver some of the highest volume stampings that you will find in the automotive industry.
At SDE, we provide quality custom tool and die manufacturing designed for customers in the automotive, military, solar, and non-automotive industries with a quick turnaround and competitive pricing. This allows our customers to simplify their supply chain with a one stop source for reliable manufacturing services.
Our high-volume stampings are driven by state-of-the-art electronics along with the most up-to-date fiber optic in-die sensors. With our advanced high-speed payoffs, our presses always keep up with customer demands for precision and automotive stampings. You can count on Sterling Die & Engineering to be at the forefront when it comes to the latest advances in precision stampings.
Our production stamping department has an incredible team of seasoned craftsmen. When it comes to metals, design, stamping, and assembly for the required application, each team member brings years of experience and a keen understanding of the processes and materials required for the early stages of development and beyond.
---
We Strive for Quality
The family-run SDE company has been synonymous with superior quality for almost five decades. Defect-free production starts with the development of new products based on the Advanced Product Quality Planning Method (APQP). SDE lives by the Zero Error Philosophy at all stages of the value added process as is evident by our PPM Rating of 3. In 2012, SDE shipped approximately sixty-million total parts.